Firstly, a bit of a diversion.
Getting back to Perth in August 1973, I soon slotted straight back into a role at 78 Records. But of course, I still had the urge to play.
An opportunity came up to play with my friend Al Kash, a great drummer. He brought with him Brenton Fosdike on guitar and Roy Daniels on bass. Being brought up in the blues scene, these guys were considered to be "straight" musicians who played in various cover bands.
I believe that I was the first guy to cross the line to play with the enemy. I can recall that, during rehearsals I was getting weird vibes from my blues friends. They didn't think it could happen.
But happen it did. The band was called Blapz. On our first gig at a place long forgotten (it was possibly Maggie's Kitchen), we absolutely tore it up. These guys weren't blues players but we really meshed. The band didn't last long and there are no recordings but it was a great experience.
After that, players from both camps swapped freely, especially when Steve Tallis started using various horn players and rhythm sections to play his music.
Now on to Bitch.
The lineup was Steve Tallis - vocals and guitar, Ivan Zar - harmonica, Reg Zar - drums, Mark Verschuer - bass, and myself on guitar.
From a personal perspective, the thing I like about these recordings is the sound of my guitar. It was a secondhand Fender Telecaster to which someone had fitted Gibson humbucking pickups. I put it straight through a Marshall head, attached to a Strauss box with one 15" speaker. I love the sound on these live recordings. The only disappointment is my playing is still a little stiff (I hadn't done my twenty years yet).
Oh yeah, they let me write some songs as well.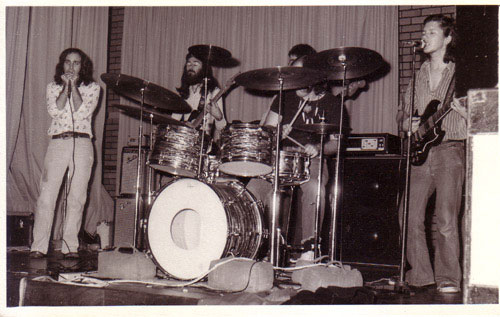 Bitch in action, left to right - Ivan, JH, Mark (obscured), Reg (partially obscured) and Steve.
These recordings are from a live session at the Sandgroper Hotel. Thanks to Steve Tallis for allowing me to use them.
1. Mailbox Blues (5:18)
2. Travelling South (5:14)
3. Forgotten Boogie (3:34) (Hood-Tallis)
4. Loaded (5:23)
5. Bring It On Home (6:32)
6. Slide Boogie (5:11) (Hood-Tallis)
7. Blues For Mona Dane (5:12) (Hood-Tallis)
A bit of trivia - the riff from Forgotten Boogie resurfaced as Rice, a tribute to Sonny Boy Williamson II on my Blues album of 2002. Slide Boogie later morphed into the Elks' repertoire as Fast Buck which they released as a single. You can't keep a good riff down.
For an MP3 download of the complete session click here. This download contains both 'Travelling South' and 'Loaded' which are the most popular tunes listened to on my website. Don't really know why, but every month they just keep turning on top of the download list ...
My stint with Bitch ended when I decided to go to England. I landed a job at Virgin Records just after "Tubular Bells" took off. I never met Richard Branson but I did spend some time with his 2IC. And, as Bob Dylan once said "I froze, right to the bone". That is one cold place.