This was my first band. When I joined in July 1968, the band was known as My Grandfathers Blues. I started off playing just blues harmonica, getting on and off the stage as required.

After a few months, the rhythm guitarist was conscripted and sent to Vietnam so I got to take his role. I didn't know how to solo, so I just played rhythm guitar and kept on blowing the harp.

The lineup at that stage was Steve Tallis - vocals, Vic Tallis - drums, Peter Walker - lead guitar, Owen Hughes - bass and JH making up the numbers.

Vic, Steve and myself were blues tragics, absorbing all we could from records. Peter Walker was an amazing guitarist. He didn't have an authentic blues background but was very musical and able to pull off some stunning stuff live, in the style of Eric Clapton, and Henry Vestine of Canned Heat. He later went on to play in Bakery.

Late in 1968, Peter had to take time off to do his final high school exams so we enlisted Alan Ross for a couple of months. When Peter came back we changed our name to The Jellyroll Bakers, and took on a manager in Cliff Gillam.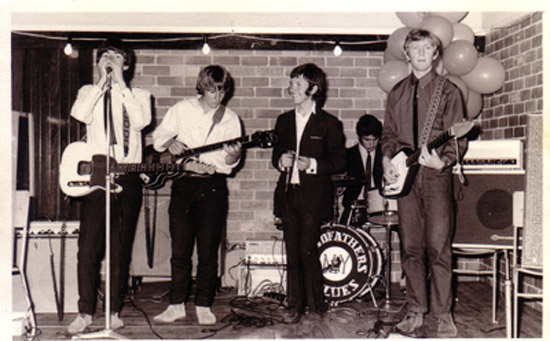 The lineup with Al Ross, far right. Note the fashion style of the two boys from the Western suburbs. Black pants, desert boots, white shirts (ties optional).
I wish I still had that Fender Telecaster, it was old when I bought it in 1968. It looked just like Mudddy Waters', paid $150 for it. I eventually sold it to Steve so that I could buy a secondhand Gibson ES-335. I've still got that one.
At some stage we won a talent quest (and lost another one to a contortionist). The prize was some recording time at the Perth radio station, 6PR. We went in and recorded four tunes which were supplied to us as acetates.
There is a complete set of live recordings from The Gaslight Club on Steve Tallis' box set. Steve can be found at www.stevetallis.com.
Please allow me one anecdote. We used to have a van with the words "Jellyroll Bakers/King Biscuit Company" painted on the sides. I was the designated driver. The number of times women came up wanting to buy bread was something else!
The band folded eventually, I think as a result of the purists versus the non-purists. While Peter was playing absolutely hot guitar, it became a bit of a circus. So we pulled the plug. Peter almost instantaneously joined The Bakery, with a good friend of mine John Pugh. Personally, I feel that they were the best live band I ever saw. John sang and played this gorgeous red Gibson SG, as well as the violin. The performances of this version of the band were legendary in Perth, just awesomely musical and with really great feeling. After a few months, John split back to Melbourne and I think Bakery then became a bit of a circus as well. Players seemed to be coming and going fairly regularly.
Following our split the three tragics hooked up with Steve Hogg (RIP) on bass and formed a band named Juke, after Little Walter's great instrumental tune. I was the only guitar player and I probably wasn't quite up to the task. We weren't getting a lot of work and our friends Reg and Ivan Zar had formed a band King Biscuit Company. We decided to merge so the two Steves and I joined forces with the Zars to make King Biscuit Company V2.
I did have some tapes of the band, but a search has not revealed them, I guess they might still turn up.
A couple of closing statements. One night an entrepreneur who shall remain nameless but had a tendency to stroke his beard and say "that's cool" accosted me after our set. He told me that really I was wasting my time and I should play guitar only at home in the lounge-room. He was probably a bit right, but hey, I was a slow developer.
King Biscuit was going pretty well, but I had a problem. I had been called up for National Service. It was deferred as I was studying, but it started to get the better of me so I split from the band and went to Melbourne. I got a job at Discurio which at the time was a fantastic record shop. I met a lot of people, Broderick Smith, David Pepperell, Rob McKenzie (McKenzie Theory). In fact I introduced Rob to the music of Bitches Brew and John McLaughlin. I can also recall selling Mick Conway of Captain Matchbox his first jug band album.
After a few months I decided to go back to Perth and register as a conscientious objector. I was successful and got to play music again. See Sid Rumpo for that story.